Ras Al Khaimah Facts
Overview
Nestled between the Hajar mountain range on the east and the Gulf on the west, the emirate of Ras Al Khaimah, which literally means "top of the tent" in Arabic, lies within the northernmost part of the UAE. The emirate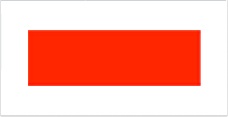 Ras Al Khaimah Flag (click to expand) is endowed with a diverse landscape consisting of miles of silver, sandy coastline in the west, the desert plains bounded by the Hajar mountains in the east and a green belt in the south with flourishing date palms and vegetable gardens. RAK's strong links with the other emirates through modern highways has fostered a renewed drive for development over the past few years. RAK is now setting its sights on becoming a premier investment destination, capitalising on its potential in the realms of real estate, industry and tourism.
Geography
RAK is located on the Arabian Gulf, near the Strait of Hormuz. It borders the Emirates of Umm Al Quwain,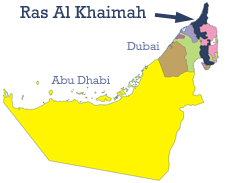 Map of UAE showing RAK (click to expand) Sharjah and Fujairah and has two different borders with the Sultinate of Oman the South and Northeast. RAK is the fourth-largest emirate, occupying 2478 sq km. Its landscape is quite varied compared to the rest of the country. It boasts some 65 km of coastline along the Gulf and fertile plains, as well as the great Hajar mountains, which reaches heights of up to 1900 meters. Temperatures in the summertime often reach the upper 40s with high humidity. In winter the eather is rather pleasant and remains relatively dry. RAK is 65 km from Dubai.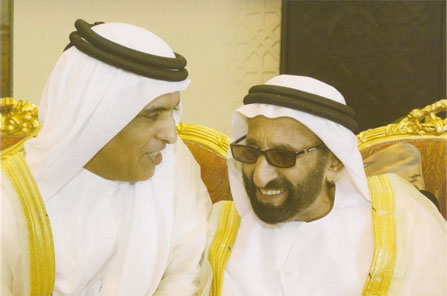 His Highness Sheikh Saqr bin Mohammed Al Quasimi (right) His Highness Sheikh Saud bin Saqr Al Qasimi (left)
Climate

Maximum Temperature:
47 degrees
Minimum Temperature:
5 degrees
Maximum relative humidity:

100

Minimum relative humidity:

10

Annual Rainfall:

19 mm

Location

Latitudes:
between 25 and 26
Longitudes:
between 55 and 60

Population / Vital Statistics

Population:

231,000

Male:

144,000

Female:

87,000

Rural Population:

109,000

Urban Population:

122,000

Live Births:

3214

Deaths:

453

Labor Force

% of Population:

65.1

Females as % of total labor force:

34.15

Males as % of total labor force:

65.69

Unemployment Rate:

6.7%

Government Employees:

772

Govt Employees - Citizens / Non-Citizens:

264 / 264

Electricity and Water

Energy Generated:
2747.504 M.KWH
Energy Distributed:
2704.706 M.KWH
Water produced:
9181.53 million gallons
Water consumed:
9181.53 million gallons

Business Climate

GDP (2008):


12,929,000,000 (3.52 Billion USD)

GDP per capita:


55,969 (15,240 USD)

GDP growth (2007 - 2008):
8%
Number of Foreign Registered Companies:

over 10,000

Total foreign investment since 2000:

over 10B AED

Industrial Firms:

143

Industrial Investment per year:
4.9B AED

Tax Provisions for Foreign Nationals / Companies

Income Tax:

0%

Property Tax:

0%

Import / Export Tax:

0%

Sea Transport

Ship movements:

3002

Unloaded Tons:

8,315,000

Loaded Tons:

22,267,000

Air Transport

Arrivals:

112,456

Departures:

95757

Cargo in:

6354 tons

Cargo out:

370 tons

Foreign Trade (million dirhams)

Imports:

4204.58

Exports:

9694.44

Re-exports:

3525.81

Total Exports:

11093.83

Trade Balance:

9015.68

NOTE:


1 Dirham = 3.6725 USD (pegged)